Benjamin Crump, Esq.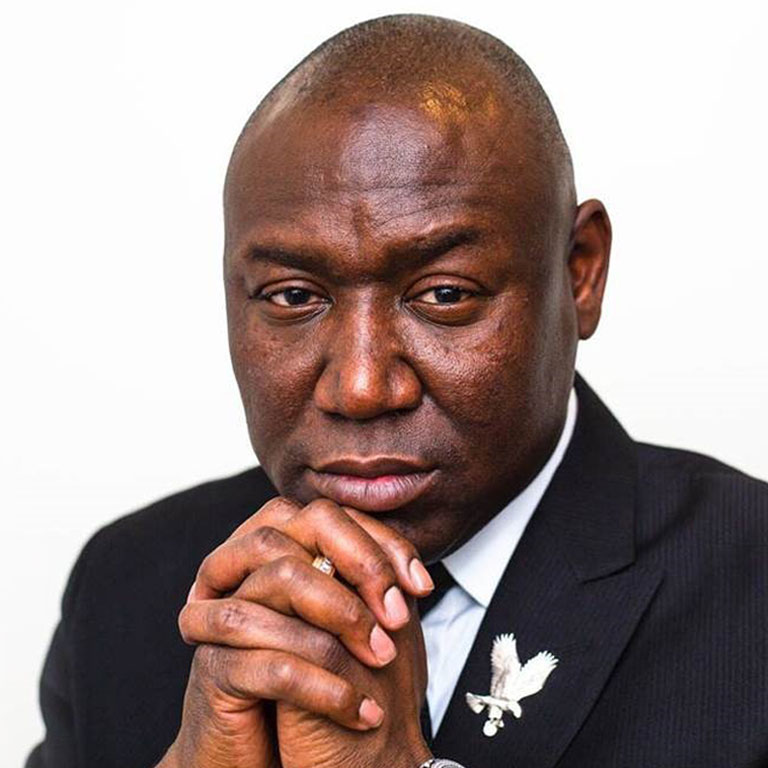 Through a steadfast dedication to justice and service, renowned civil rights attorney, author, and media influencer Benjamin Crump has established himself as one of the nation's foremost lawyers and advocates for social justice, earning the nickname "Black America's Attorney General." His legal acumen has ensured that those marginalized in American society are protected by their nation's contract with its constituency. He is the founder and principal owner of Ben Crump Law.
Crump's tireless advocacy has led to legislation preventing excessive force and developing implicit bias training and policies. National recognitions include the 2014 NNPA Newsmaker of the Year, The National Trial Lawyers Top 100 Lawyers, and Ebony Magazine Power 100 Most Influential African Americans. In 2016, he received designation as an Honorary Fellow by the University of Pennsylvania College of Law.
He has represented families in several high-profile civil rights cases, including Trayvon Martin, who in 2012 was killed by a neighborhood watch volunteer in Sanford, Florida; Michael Brown, who was killed in 2014 by a law enforcement officer in Ferguson, Missouri, Stephon Clark, who in 2018 was killed by police officers in Sacramento, California; as well as the residents of Flint, Michigan, who were affected by the poisoned water of the Flint River. In addition, Crump represented 9 of the 13 black women victims in the Holtzclaw Oklahoma City Police rape case in 2015 and worked on the precedent-setting U.S. Supreme Court case involving excessive police force against Robbie Tolan in 2008.
Mr. Crump is the president of the National Civil Rights Trial Lawyers Association and previously served as president of the National Bar Association. He was the first African American to chair the Florida State University College of Law Board of Directors and currently serves on the Innocence Project Board of Directors. Also, he is the founder and director of the Benjamin Crump Social Justice Institute.
Among dozens of accomplishments, Attorney Crump received the NAACP Thurgood Marshall Award, the SCLC Martin Luther King Servant Leader Award, the American Association for Justice Johnnie Cochran Award, and the Alpha Kappa Alpha Eleanor Roosevelt Medallion for Service.
Crump hosted the critically acclaimed legal docudramas Evidence of Innocence on TVOne and Who Killed Tupac: The Search for Justice on A&E. He served as executive producer of the documentary, Woman in Motion, about Nichelle Nichols, one of the first African American TV actresses. He is also a frequent contributor to Huffington Post Black Voices, CNN, and USA Today.
Crump's book, published in October 2019, Open Season: Legalized Genocide of Colored People, reflects on the landmark cases he has battled and how discrimination in the courthouse devastates real families and communities.
Crump graduated from Florida State University and received his law degree from FSU College of Law. He is married to Dr. Genae Angelique Crump.