Leading by example: IU education major Julian Luna makes his mark through learning—and teaching—lessons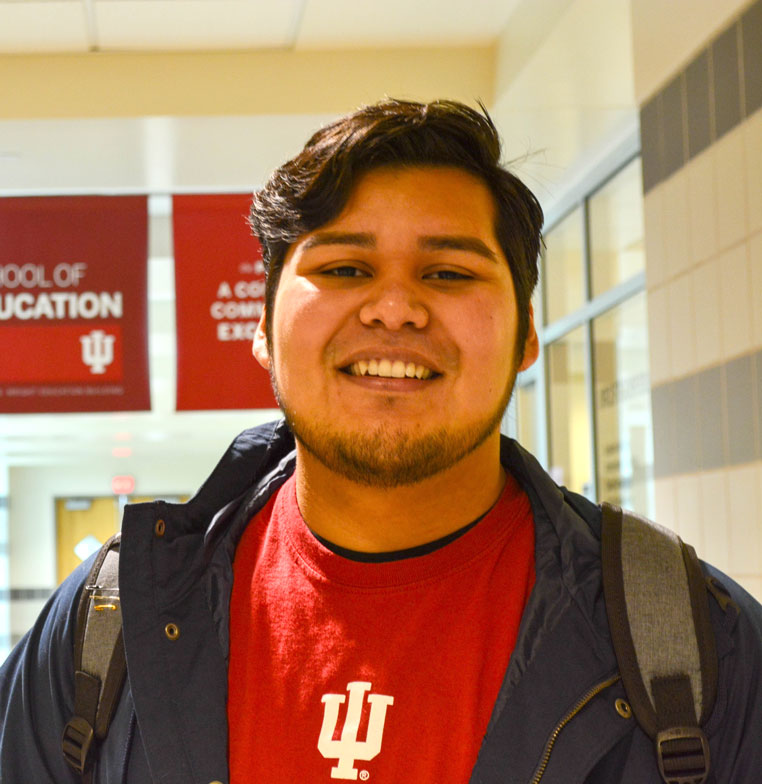 Indiana University junior Julian Luna is naturally modest. Despite his involvement in a dizzying array of activities at IU Bloomington, the Elkhart, Ind., native claimed, "I don't feel like I'm making an impact. I'm just doing what I should be doing."
If that's the case, then whatever he's doing seems to be working. As IU celebrates the living legacy of The Reverend Dr. Martin Luther King, Jr., there are faculty, staff, and students who, like Luna, have been carrying on his values of courage and compassion, whether they know it or not.
Luna, who is of Mexican descent—his parents first immigrated to Stockton, Calif., where he was born, before eventually settling in the Hoosier State—is a true leader when it comes to campus involvement, perhaps taking the lessons he's learned from being the eldest of six siblings.
An elementary education major with an ESL (English as a Second Language) license addition, Luna is a resident assistant on the Spectrum floor in the Teter Quadrangle Residence Hall, a partnership with IU's LGBTQ+ Culture Center, a program within IU's Office of the Vice President for Diversity, Equity, and Inclusion (OVPDEI). He has also participated in several other OVPDEI programs, including the Groups Scholars Program and the 21st Century Scholars Program, while working for the Balfour Scholars Program's Pre-College Academy and as an undergraduate staff member of the La Casa Latino Cultural Center, where he is a founding member of the new Latinx initiative.
If that wasn't enough, Luna also teaches mini-lessons in a third-grade class at the University Elementary School, and facilitates a tutoring program at the Monroe County Public Library through El Centro Communal Latino, providing volunteers for ESL students to receive homework help and English tutoring help for their parents.
As meaningful as those experiences have been to Luna, only a few short years ago, he was leaning toward attending smaller, private colleges before a high school counselor first broached the idea of him being a Groups Scholars. Since he also qualified for 21st Century Scholars and received the IU Covenant, it made practical sense for him to come to Bloomington. Now, Luna looks back at Groups as one of his most pivotal moments in his transition to college.
"Without Groups, I don't think I'd still be here. Groups was a way for me to transition into college, but also meet people who are still my really close friends today. The entire experience was amazing, and when I meet new students and they say they're in Groups, I say, 'Hey, I did Groups, too! We're a team!' It's a great way to connect with someone, because you know their experience," he recalled. "I just feel very fortunate that programs like Groups and Balfour do exist, because that's like a segue to get students here and diversify the campus."
But his freshman year wasn't completely positive, Luna candidly admitted.
"IU was the first place where I ever experienced racism. I come from a small city, but Elkhart is pretty diverse. Coming to IU, it was just a culture shock of the white majority and experiencing racism. For a while, I didn't even want to be here. I wanted to transfer. Thankfully, I had an instructor who was very helpful and very kind—and she was white," he said.
"It was relieving to see that not everybody was like that, and I can't categorize an entire population because of one incident. I also started getting close with the people at La Casa. Race was never something I thought about. Yeah, I'm Latino, but as long as I work hard, I can be as good as anyone. But then, that incident happened and I started realizing race was something I had to think about, and coming to La Casa really helped me because they're very accepting and very open. I just love that place. Lillian [Casillas-Origel, La Casa's director] is my mom away from home."
Instead of making the easy decision to transfer, Luna resolved to make things better.