Through collaborations with colleagues and lessons to students, Dr. Joan Pong Linton has helped the IU community grow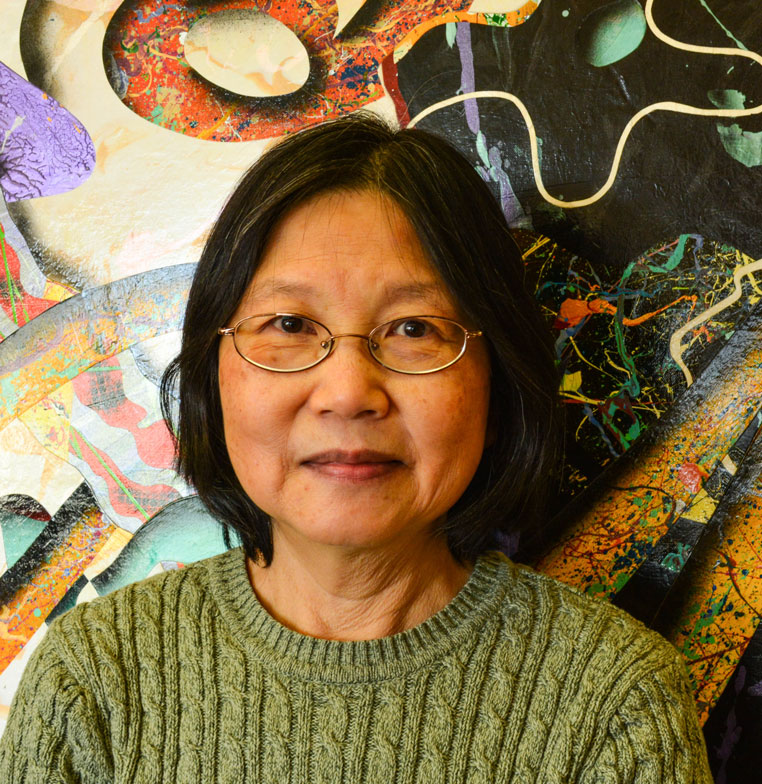 Getting Dr. Joan Pong Linton to tout her own virtues is as hard as pulling teeth. Throughout her 24-year career at Indiana University, she has made a tremendous impact on the Bloomington campus, yet she always seeks to credit others.
Humility aside, it's Linton's willingness to work with others for the greater good that truly makes her special. It's also just one of the reasons she is one of a handful of people being honored by IU's Office of the Vice President for Diversity, Equity, and Multicultural Affairs (OVPDEMA) in conjunction with IU's 2017 Martin Luther King, Jr. Celebration for embodying Dr. King's values of courage and compassion.
Her official title, a professor of English, belies the fact that she's been involved in a number of initiatives that have helped make the IU community a better place. Between Linton's work in diversity, her implementation of service learning in the English department, and an overall impact on the university's students, faculty, and staff, it's clear that throughout her 24-year career in Bloomington, she's made her presence felt—even if, due to her self-deprecating nature, she shrugs off praise.
"To make an impact, it has to be more than one person," she said. "Lots of people influenced me and I've worked with a lot of people."
This is true, but the fact that she often collaborates with others on projects doesn't lessen her contributions. Rather, it enhances them.
"I would say the people that most influenced me from the get-go were actually staff members: The Asian Culture Center's director, Melanie Castillo-Cullather and the director of La Casa, Lillian Casillas-Origel," said Linton, referencing the longtime directors of two programs administered by IU's Office of the Vice President for Diversity, Equity, and Multicultural Affairs (OVPDEMA). "Those two collaborate so well and in a way, they model the kind of inter-ethnic, intercultural connections that can be made and people can build on, so they were two major influences that involved me on the campus."
Linton was asked to join the Asian Pacific American Faculty and Staff Council in 2007, eventually chairing the group's steering committee, a position that rotates among members. At first, the council focused on social events, creating an opportunity for minority faculty members to commiserate. Eventually, however, it took on more of an intellectual bent, something that was pushed by James Wimbush, IU's vice president of diversity, equity, and multicultural affairs.
Linton also became the acting director of IU's Asian American Studies program in 2009. But instead of reveling in her own title, she emphasized how proud she is of the behind-the-scenes work that led to the formation of the program.
"Part of the push for this came from support from African American students, Latino students, and Asian American students. The same thing happened around the creation of the Asian Culture Center. It was really on-campus support by students, and it's a coalition across race and ethnicity," Linton said. "That's heartening and I think in some ways, the collaboration, especially between Melanie and Lillian, really modeled something for the [Asian and Latino] students, and the black student leaders on campus were very open to coalition-building."
Around this time, Linton worked with Arlene Diaz, a history professor at IU who then chaired the Latino Studies department, and Valerie Grim, then an associate professor and chair of IU's Department of African American and African Diaspora Studies. As a trio, they were able to engage with minority faculty and gain their support to work together.
Part of their work was a campus self-study in 2009 that included respondents from across lines of cultural and institutional differences. In the spring of 2010, Linton and her colleagues mounted a campus-wide series on inclusion called ARC—Attention, Reflection, Connection: Steps toward an Inclusive Campus—that focused on the idea that diversity is the concern of all populations, not just minority groups, and involves practices of inclusion in all areas.
"I didn't know them very well at all, but I recognized immediately that they were like-minded about diversity. We went to different schools, different offices across the campus to find out what concerns they had, where they feel they had made efforts that paid off, that were actually sustained in terms of diversity, and what they would recommend and what they want to see happen," Linton explained. "I would say that my efforts, along with my colleagues, connected with efforts elsewhere. Being in literary studies, the whole issue of diversity is part of that study. But once you get on the campus and get in touch with students of all stripes, and get involved with different departments and units, then the issue of diversity becomes much less issues that are book-bound.