Even after graduating, Mercedes Jones is still making an impact on the IU community and beyond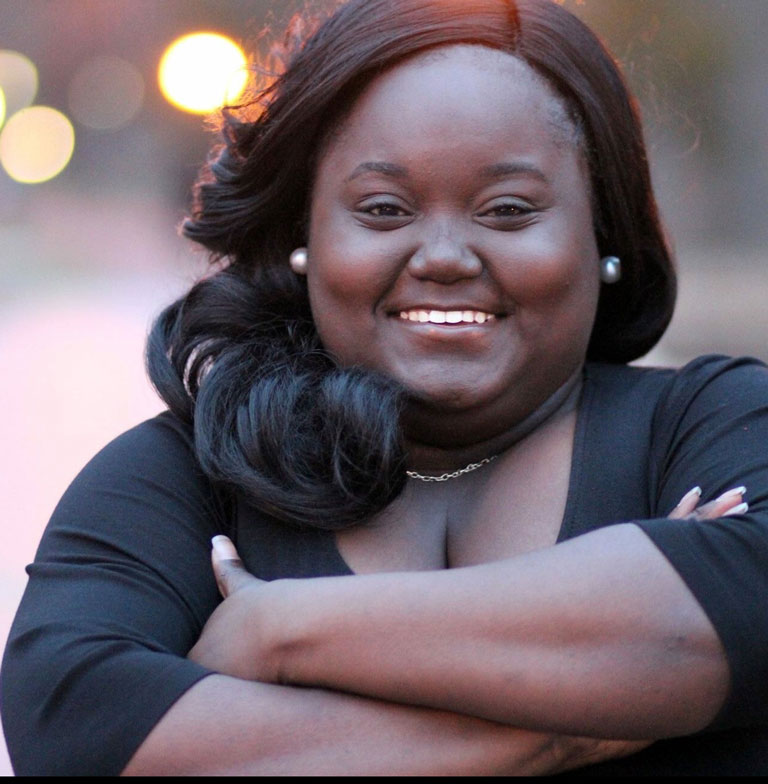 Having focus and drive is one thing, but Mercedes Jones is on another level. A 2016 graduate of IU Bloomington, Jones is well known for her long list of extracurricular activities as a student, most notably founding the Crimson Cupboard, a food pantry for students. Now that she's has a full-time job in Indianapolis, one would think that simply due to time constraints, Jones might have to curtail her volunteer efforts.
Think again.
"When the food pantry has special events or the other organizations I was involved in have events, I'm always there, regardless of whether I have to take off work or reschedule something," she explained. "At the same time, I'm confident now, especially that it's been left in great hands and if it wasn't, then I would be there more. But it has been, so it's not something that I have to concern myself with all the time. Yes, I do stay updated constantly. I talk to my new executive board every week and I want to know what's going on, but they've taken the food pantry above and beyond even what I ever thought was possible."
While there are many students, faculty, and staff at IU who emulate The Reverend Dr. Martin Luther King, Jr.'s values of courage and compassion through their actions, Jones stands out in a crowd. As much as her efforts have been lauded, her commitment to a cause and determination to finish what she started—and then some—are truly remarkable.
Jones, who graduated with a degree in public management with a concentration in nonprofit management from IU's School of Public and Environmental Affairs (SPEA), currently works in finance for Defense Finance and Accounting Services (DFAS), where she describes her position as "a mix of disbursement, collections, auditing, and a mix of accounting and finance," while processing payments for the U.S. Navy and Air Force.
The daughter of parents who were in the military (her father served in the U.S. Army for 25 years before retiring), Jones was born in Alaska before moving to McCordsville, Ind., a town east of Indianapolis. In addition to the Crimson Cupboard, Zeta Phi Beta, and Voices of Hope, Jones was also the second vice president for the National Pan Hellenic Council and a participant in programs administered by the Office of the Vice President for Diversity, Equity, and Multicultural Affairs (OVPDEMA)—the Hudson & Holland Scholars Program, as well as serving a student ambassador for both Hudson & Holland and Community and Schools Partnerships. An equally well-rounded student in high school—she was a dancer, part of the French Club, volunteered for the girls' basketball team, and held down a part-time job—Jones had eyes for only IU when it was time to think about college.
"IU was the only school I applied to because I wanted to go to Kelley. I thought I wanted to major in accounting," she recalled. "I felt like if I didn't go to IU, I'm not going to college. I didn't visit IU's campus. I just looked at the business school."
Upon arriving in Bloomington, however, not only did Jones switch her focus, to IU's School of Policy and Environmental Affairs (SPEA), she experienced what a lot of freshmen go through.