The impact of law professor Kevin Brown's remarkable career resonates far beyond IU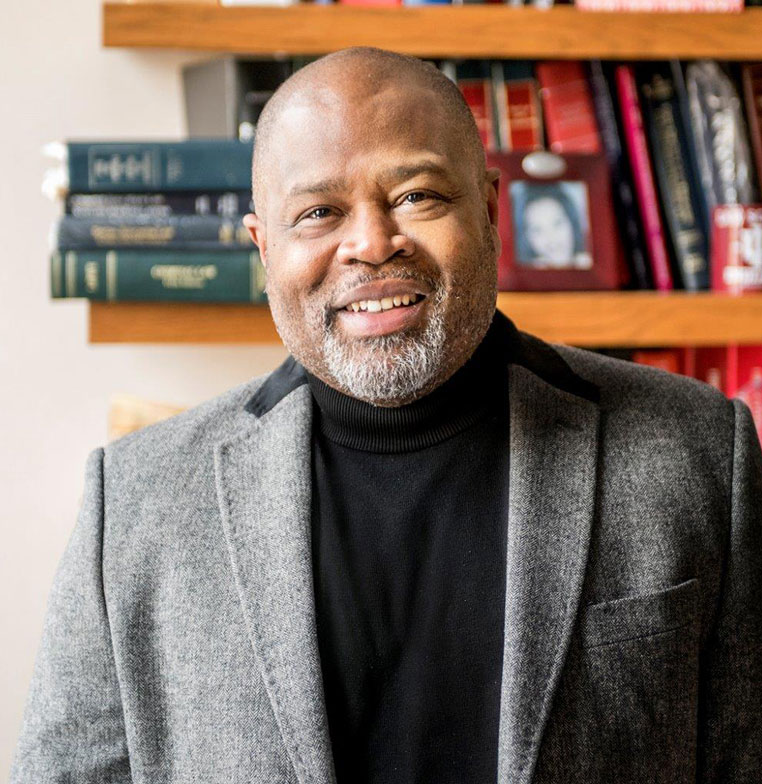 The way Kevin Brown sees it, in addition to the tremendous support of his wife, Dianne, much of his distinguished career transpired as a result of "happenstance." The Richard S. Melvin Professor of Law at Indiana University's Maurer School of Law in Bloomington attributes a great deal of his success to simply good fortune or being in the right place at the right time. But it takes an individual with the vision to see the potential in those opportunities to make the type of impact Brown has made.
Brown is one of a select group of people being honored for emulating some of the values of the Reverend Dr. Martin Luther King, Jr., specifically having the courage to make a change for the better in the lives of others. While he may downplay the significance of what he's accomplished, it's clear that his work has made a difference at IU and beyond.
A 1978 graduate of IU Bloomington's Kelley School of Business, Brown is an Indianapolis native whose parents were both educators in Indianapolis Public Schools, with his father being the head of the math department at Crispus Attucks High School, an all-black school. One could say he was destined to attend IU, as both of his parents received their undergraduate and graduate degrees from IU. The tradition continued as Brown's older brother, Darrell, who is a clinical associate professor in management and director of diversity at Kelley on the Indianapolis campus, got his MBA at IU Bloomington. In additional, Brown's oldest daughter, Nichole, received her MBA from Kelley in Indianapolis, while another daughter, Crystal, received her bachelor's degree in Bloomington, his son, Devin, is currently a first-year law student at Maurer, and his son-in-law, Antonio Williams, not only obtained his master's and doctorate degrees in Bloomington, but is also an assistant professor at IU's School of Public Health.
That being said, Brown considered himself an average student when he arrived in Bloomington from Indianapolis' North Central High School. But at IU, his grades vastly improved, graduating from the Kelley with a 3.7 grade-point average and a degree in accounting. Then, he applied to law school at both Maurer and IU's McKinney School of Law in Indianapolis, opting to return to his hometown after taking a year off to work for an accounting firm in Indianapolis.
Shortly after starting law school, the first of those "happenstance" moments occurred. Following a conversation with one of the two other African American students in a class of 200, he realized that with his GPA and LSAT scores, he could be admitted into the top law schools in the country through affirmative-action programs, and transferred to Yale after finishing second in his class in his lone year at McKinney.
After graduating from Yale's prestigious law school in 1982, Brown returned to Indianapolis, where he was the second person of color to work at a major law firm in the history of the state of Indiana. He returned to Bloomington to join the faculty at Maurer in January of 1987, becoming the third tenure-track professor of color there. Brown acknowledges that during his early years teaching at IU, he wasn't overly concerned with what was happening within the university's African American community, instead focusing on getting tenure as a professor and his own growing family.
In another seeming coincidence—or perhaps destiny—Brown was invited to attend a summer legal studies conference with 24 other law professors of color, featuring several luminaries in the field. That conference launched an intellectual movement that became known as Critical Race Theory, which analyzes race and racism from a legal point of view and has since turned into a defining movement.